HV & LV Maintenance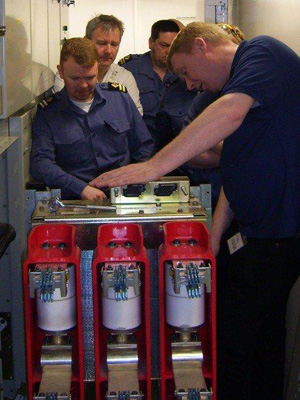 Provision of regular maintenance for industrial electrical switchgear can be critical to avoid expensive and time consuming breakdowns and emergency repairs. It can also contribute to extending the working life of the equipment considerably.
Our engineers can offer you peace of mind with services ranging from non-intrusive checks on live equipment to fully detailed electrical and mechanical maintenance during scheduled shutdowns. This can be limited to just the moving parts of the equipment, breaker mechanisms & protection relays for instance, or we can offer comprehensive maintenance of the equipment including the housings and ancillary equipment if preferred.
Non-intrusive inspection can be carried out both visually and using thermal imaging or partial discharge equipment if applicable. Hotspots, loose connections and insulation breakdowns can be detected in this way before they become and expensive problem to fix. Tabulation of results over a period can also highlight any deteriorating trends in time to carry out directed and effective corrective work, generally referred to as predictive maintenance.
Standard maintenance tasks would include:-
General visual and operational inspection of all designated equipment
Clean and lubricate all mechanisms
Clean and re-apply suitable contact grease on isolating and main contacts
Clean and lubricate earthing contacts
Check and set contact gaps as required
Check manual, opening, closing & tripping operation
Visually check auxiliary wiring and main cables
Prove operation of interlocks
On top of general maintenance in line with manufacturers recommendations, our engineers can carry out the following additional checks on devices and assemblies as required:-
Ductor testing (Micro-Ohmmeter resistance measurement) across breaker contacts and busbar joints
Torque tests on busbars, connections and earth contacts.
Insulation Resistance between phase, neutral and earth.
High Voltage Pressure (Flash) tests
Primary and Secondary current injection
Current Transformer Magnetisation curves
We can also offer a recommended maintenance strategy based on scheduled shut downs to avoid disruption to production operations, reducing variable costs and allowing predictable planning of maintenance budgets. This would be tailored to your requirements taking into account the age of your equipment, average load, switching frequency and the environment in which it is installed.
Got a question?
Call us on:
01564 794 706