Switchgear Modifications

As budgets become increasingly tighter over the years, the prospect of extending the working life or capabilities of your existing switchgear becomes a more attractive one.
Beyond a regular maintenance program there are issues such as increased capacity, additional circuits and improved functionality which obviously require the addition or replacement of existing equipment.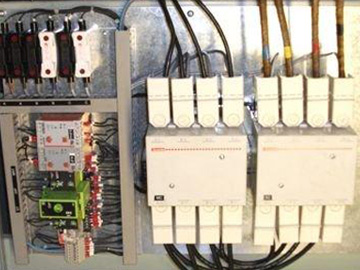 While replacement of an entire switchboard is an option, this does entail considerable cost and production downtime, not just for the new equipment, but the removal of the old, replacement and reconnection of cables and any associated civil works.
Modification or replacement of a small section of the existing equipment, or the addition of an extension, can offer a very cost-effective solution to the problem and a significant reduction in lost time to implement.
Our engineers are the recognised experts in the Ottermill, range of equipment, all factory trained they have spent many years installing, commissioning, maintaining and servicing equipment lines from Ottermill, Cutler Hammer, Eaton, Holec, MEM and Bill.
Additional/Replacement circuits:-
Dependent on the design and manufacture of the existing equipment we are often able to offer refurbished devices of the same manufacture, suitably serviced and tested for safety, to fit into spaces in the existing equipment. Each device is supplied complete with a test certificate for fitting by your own engineers or by ours. We have recently undertaken a major "re-lifing" program at a busy UK airport, replacing a large number of switches with serviced and tested units, this was deemed a preferred option compared to the downtime required to service the existing switches.
Extension cubicles:-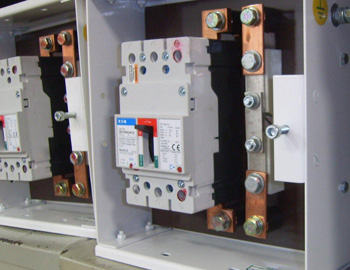 We can supply extension cubicles to match several existing designs and can adapt busbar and framework connections to allow extensions to be achieved for switchgear which may have been out of manufacture for many years. Bespoke solutions can be provided to overcome such issues as lack of space or cabling restrictions and in most instances the new equipment will blend well with the appearance of the original. In some circumstances an extension may also require less installation time than incorporating a new switch in an existing cubicle.
Retrofit designs:-
There are many reasons why a device may need to be changed, it may be faulty and no original replacement available, it may contain asbestos or other hazardous materials, you may wish to upgrade it or it may need some form of control or monitoring that is not available within the original design to enable it to be integrated into a modern Building Management system.
We have produced designs ranging over a wide variety of applications including:-
Replacement of 415V contactors and motor starters on three offshore oil & gas drilling platforms
Replacement of traditional Fuseswitches in a main switchboard with Moulded Case Circuit Breakers in a Central Criminal Court
Upgrading both control and protection by replacing over thirty manual Air Circuit Breakers with state-of-the-art motor operated micro-chip controlled breakers at an MOD Nuclear site.
Supporting an ongoing ten year program of 11kV Vacuum Circuit Breaker replacement at three major UK Power Stations.
Upgrade and V.I. replacement on VCBs and Vacuum Contactors on 6.6kV powered ocean-going vessels (both Military and Commercial).
Replacement of traditional clapper-type changeover contactor assemblies and controls (including BMS interface) in a large London Hospital
All the above included installation and testing on site by our engineers.
Benefits range from added reliability, remote monitoring and control, improved and adjustable protection, increased safety and compliance with changing regulations. The majority of retrofit projects we undertake are very specific in requiring a solution that will fit within the original footprint of the device being replaced, often a critical need especially where multiple circuits are replaced.
We can also offer Asset evaluations and recovery – for example where we are replacing old equipment we may be interested in taking this in part exchange. We can also arrange for removal and disposal of any asbestos products contained within the original equipment or decommissioning and disposal of obsolete switchgear.
Got a question?
Call us on:
01564 794 706